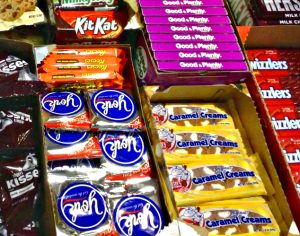 Police in Upper Township are looking for a man who they claim took merchandise but did not pay. Based on alleged video surveillance from a Cape May County Acme, workers reported the shoplifting, per nj dot com. The items allegedly include more than $570 in Red Bull, diapers and baby formula, per nj dot com. Additionally, cops believe the same suspect shoplifted more than $250 of Red Bull from a Marmora ShopRite, per nj dot com.

Now here is the rub. News sources disagree about the value of the items in both incidents. Some sources report the first incident involved more than $570. But at least one other news source reported a value of only $570. With respect to the alleged incident in Marmora, news sources disagree whether the suspect shoplifted or attempted to shoplift. Furthermore, none of the sources agree whether the value in Marmora was $250 or more than $250.
Of course, none of these discrepancies matter if you do not believe the news. But if you form opinions based on the news, discrepancies like these undercut those opinions.
Shoplifting, N.J.S.A. 2c:20-11
Shoplifting consists of any one or more of the following acts, for any person purposely to:
Grading Shoplifting
New Jersey law grades shoplifting as a Third Degree Crime when the full retail value greater than $500 and less than $75,000.
Exposure for Third Degree Shoplifting
State Prison, three to five years
Probation, one to five years, conditioned on county jail up to 364 days
Victims of Crime Compensation Assessment (VCCA)
$100 to $10,000, if injury or death results
$50.00, if injury or death does not result ($30.00, juvenile delinquency)
Safe Neighborhood Services Fund Assessment, $75, each conviction
Law Enforcement Officer Training Fund, $30 ($15, juvenile delinquency)
Community Service
First offense, at least ten days of community service
Second offense, at least 15 days of community service
Third or subsequent offense, a maximum of 25 days of community service and
a minimum term of imprisonment of not less than 90 days.
Fines, $15,000 or any higher amount equal to double the pecuniary gain to the offender or loss to the victim caused by the conduct constituting the offense.
OTHER
License Postponement, Suspension, or Revocation, if motor vehicle used
Restraining Order
Community supervision
Halfway house or residential facility including non-Dept. Human Svc. facilities
Imprisonment at night or weekends to allow work, training or school
Restitution
Court Costs
Experienced New Jersey Criminal Defense Lawyer Michael Smolensky, Esq., knows how to protect his clients. Mr. Smolensky can provide consultations on all cases in New Jersey involving Shoplifting and Theft. Call Now—(856) 812-0321.