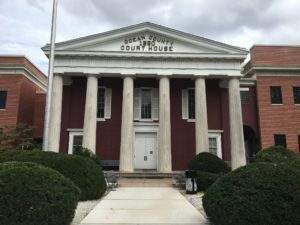 The New Jersey Attorney General recently announced the conviction of a cop and his wife based on fraudulent fund applications. Accordingly, an Ocean County jury convicted the pair for stealing about $187,000 by filing false Superstorm Sandy relief fund applications. Indeed, the state's case included testimony and evidence that the pair filed fraudulent applications for: FEMA assistance, a low-interest SBA disaster-relief loan, and state grants under the Homeowner Resettlement Program (RSP), the Reconstruction, Rehabilitation, Elevation and Mitigation Program (RREM), and the Sandy Homeowner and Renter Assistance Program (SHRAP) funded by the New Jersey Department of Human Services. Previously employed by the Hoboken Police Department, the jury convicted the cop and his his wife on charges of second-degree conspiracy, second-degree theft by deception, and six counts of fourth-degree unsworn falsification to authorities.
The couple falsely claimed in their applications a home they owned in Seaside Heights as their primary residence when Sandy struck and damaged it. It appears, however, the jury found their primary residence was in Dumont, N.J. It also appears the jury found at the time of the storm the Seaside Heights home served as a vacation/rental property. Per the news release, as a result of the applications, the couple received $2,820 from FEMA, $90,200 in SBA loan proceeds, a $69,054 RREM grant, a $10,000 RSP grant, and a $15,000 SHRAP grant. In addition to fines and prison time, the cop forfeited his employment with the Hoboken Police Department.
Unsworn Falsification to Authorities, N.J.S.A. 2c:28-3
Fourth Degree Crime
Under New Jersey law, a person commits a fourth degree crime if he makes a written false statement which he does not believe to be true, on or pursuant to a form bearing notice, authorized by law, to the effect that false statements made therein are punishable.
Disorderly Persons Offense
Additionally, a person commits a disorderly persons offense if, with purpose to mislead a public servant in performing his function, he: (1) Makes any written false statement which he does not believe to be true; (2) Purposely creates a false impression in a written application for any pecuniary or other benefit, by omitting information necessary to prevent statements therein from being misleading; (3) Submits or invites reliance on any writing which he knows to be forged, altered or otherwise lacking in authenticity; or (4) Submits or invites reliance on any sample, specimen, map, boundary-mark, or other object which he knows to be false.
Case Law
The New Jersey legislature enacted this statute "to prohibit misstatements to governmental agencies and public servants where the statements are not made in solemn form such as under oath or a certification in lieu of oath."1 One might argue, however, the statute does not prohibit "misstatements." Instead, the statute's plain text prohibits false statements made knowingly or purposely. After all, is it a crime when a "misstatement" is merely a careless mistake?
In reality, however, the foregoing argement is mistaken. This is so because a careful analysis of the statute reveals that it applies to written documents submitted to the government. Indeed, the completion of a governmental form should cause a person to take the contents seriously. Like testimony given under oath, the individual should verify and corroborate the factual assertions contained in the document. Additionally, the person should expect others to review it for weaknesses.
Southern New Jersey Criminal Lawyer Michael A. Smolensky, Esquire, knows how to protect his clients. Call Now—(856) 812-0321.
Footnotes
1 State v. Kushner, 192 N.J. Super. 583 (App. Div. 1984).