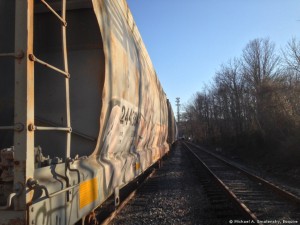 Two teens allegedly fled police in a stolen vehicle and disappeared on a private school campus in Hightstown, New Jersey. One suspect according to the media allegedly drove the vehicle recklessly and fled from police in the automobile. Next, after crashing at the school, the pair ran onto campus and disappeared after hopping a fence, according to the press. Eventually officers arrested them hiding on the roof, according to nj dot com. Consequently, police charged the older suspect with Eluding, according to media reports, among other allegations.
Eluding, N.J.S.A. 2C:29-2(b)
New Jersey law defines eluding as a third degree crime when:
Any person, while operating a motor vehicle on any street or highway in this State, . . . who knowingly flees or attempts to elude any police or law enforcement officer after having received any signal from such officer to bring the vehicle . . . to a full stop . . . .
Importantly, eluding is a second degree crime "if the flight or attempt to elude creates a risk of death or injury to any person." Additionally, the Eluding statute establishes a "rebuttable presumption that the owner of a vehicle was the operator of the vehicle at the time of the offense."
Second Degree Eluding Penalties:
State Prison: Between five years and ten years
Fines: Up to $150,000.00
Third Degree Eluding Penalties:
State Prison: Between three years and five years
Fines: Up to $15,000.00
Penalties For All Eluding Offenders:
Victims of Crime Compensation Assessment (VCCA):

Each crime resulting in injury or death of another person: Between $100.00 and $10,000.00
Any crime not resulting in injury or death of another person: $50

Safe Neighborhood Services Fund Assessment: $75
Law Enforcement Officer Training & Equipment Fund: $30
Probation Supervision Fee (if applicable): Up to $25 / month
License Suspension: Up to 2 years
Court Costs
Eluding, Case Law
In one published opinion in New Jersey, a cop paced a vehicle on a highway at about 40 miles per hour. Aside from the vehicle's speed, the cop had not observed any other erratic driving. Therefore, after about one-quarter of a mile, he activated his overhead lights to have the car pull over. Nevertheless, the car's speed increased to about 50 mph. Consequently, the cop activated his siren and directed the driver to pull over with the police vehicle's public address system. But the driver did not immediately stop. Instead, the officer observed erratic driving and speed fluctuations between 35 and 50 mph. Additionally, the officer saw the passenger throw a white package, later identified as cocaine, from the vehicle. Finally, after about one and one-quarter miles, the vehicle stopped.1
The panel held one must immediately stop one's vehicle upon receiving any law enforcement officer's signal. Interpreting the plain text of the eluding statute, the panel found it applies to "any signal" to stop. Additionally, the panel analogized the policy that prohibits citizens from resisting arrest.2 Thus, the Court reasoned that fleeing can create risks of danger to the driver, officer, other motorists, or pedestrians. Hence, the criminal penalty for failure to stop is to encourage compliance with the officer's signal. Likewise, the motorist has the right to challenge an illegal stop in court. Therefore, the panel concluded one must immediately stop one's vehicle after receiving any law enforcement officer's signal.
Did the cops charge you with Eluding?
New Jersey Criminal Defense Lawyer Michael A. Smolensky, Esquire, knows how to protect his clients. Mr. Smolensky can provide confidential consultations in all cases involving Eluding under N.J.S.A. 2c:29-2(b).
Follow
Footnotes
1 State v. Seymour, 289 N.J.Super. 80 (App. Div. 1996).
2 State v. Koonce, 89 N.J. Super. 169 (App. Div. 1965).