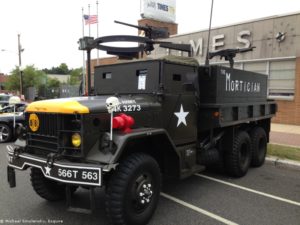 Recently Cedar Grove cops set up a DWI sobriety checkpoint in Essex County, New Jersey. During a six hour period, 1,450 vehicles passed through the area, per the news. But the cops did not arrest one driver for driving while intoxicated. I have to tell you, this warms the very cockels of my heart. This is especially heartwarming because officers conducted field sobriety tests on seven drivers who "exhibited signs of intoxication." But they did not arrest anyone for DWI. And it's as if Police Chief Joseph Cirasa read my mind. He claims this was a resounding success! With no arrests to show, he claims the goal was to deter.
Deterrence is certainly a "buzzword" the police know to use liberally in court, like "plain view" and "probable cause." But police departments and municipal courts operate based on budgets. And the profit motive for the police and municipal courts is undeniable. Obviously, courts collect costs and fines to deter individuals from violating the law. Additionally, the time to process a DUI can provide an opportunity for a police officer to work overtime. Furthermore, officers who catch the most intoxicated drivers might qualify for separate drunk driving grants.
Moreover, each drunk driving or refusal conviction results in two contributions by the defendant to the Drunk Driving Enforcement Fund (DDEF). One contribution is 95% of a $100 DDEF surcharge.1 Another contribution to DDEF consists of 66% of the $100 fee payable to the Alcohol Education, Rehabilitation and Enforcement Fund (DARE Penalty).2
DDEF beneficiaries consist of entities like the Division of State Police, a county or interstate law enforcement agency, or a municipality. Indeed, each entity can receive DDEF grants in proportion to contributions attributable to it during a prior state fiscal year as well as DDEF contributions attributable to it via DARE administration.3 At least 50% of these fund must go to overtime pay for additional DWI patrols or DWI sobriety checkpoints. Meanwhile, the department can use up to 50% of this income for equipment, training, and other drunk driving enforcement.4
Keep it real. In addition to my private law practice, I am also the Immediate Past President of my local Kiwanis Club. Based on these experiences, I know the importance of fundraisers. So take the propaganda from the Cedar Grove Police Chief with a grain of salt.
DWI Sobriety Checkpoint
Ordinarily the law prohibits police from conducting a stop without a particularized suspicion of illegal activity. After all, individuals operating or traveling by car do not lose all reasonable expectation of privacy. Indeed, stopping an automobile and its occupants constitutes a "seizure." Our Consitution does not permit officers to stop and question persons whose conduct is innocent, unremarkable and free from suspicion. After all, the risk of criminal activity is less of a danger than unfettered interference with personal liberty.
A DWI sobriety checkpoint, however, involves the cops making suspicionless stops. Therefore, in the absence of reasonable suspicion, other safeguards must protect reasonable privacy expectations against the whim of the police. Consequently, a New Jersey DWI road block must be distinguishable from a random investigatory stop.
DWI Sobriety Checkpoint Requirements
A supervisory authority must establish the DWI sobriety checkpoint. Cops cannot set up road blocks without any oversight as to where, when, and how long it will last. Likewise, the supervisory authority ought to designate the permitted scope of police conduct during the roadblock. Indeed, if the officer in the field established the roadblock, then the unreasonableness of the police activity significantly increases. Instead, executive-level officers of the law enforcement agencies must formulate or approve any plan to establish roadblocks.
Additionally, the cops must carefully target the DWI sobriety checkpoint to a particular area at a specified time and place. The cops must first investigate and develop empirical data about drunk drivers at the particular location and time. Importantly, the law disapproves of sending officers to set up road blocks wherever and whenever they feel like it.
Furthermore, data must justify the site for reasons of public safety and reasonable law enforcement goals. Thus, the cops must articulate a rational need to favor their intrusion on the right of citizens to travel unimpeded.
Moreover, the police must specify neutral and courteous procedures when stopping drivers. They must also issue adequate warnings to avoid frightening the traveling public. This involves proof of adequate warning for approaching drivers of a roadblock ahead. Similarly, a display of legitimate police authority at the roadblock might reduce the likelihood of apprehension, fear, or surprise. Nevertheless, the location of the road block cannot be determined on the fly. Thus, the cops must prepare and disseminate advance general publicity to deter drunk drivers.
DWI Sobriety Checkpoint Defenses
Even if a police department believes it acted reasonably, a defendant may challenge the validity of their decision in court. Notably, the State shoulders the burden of proving the "overall reasonableness and validity" of a warrantless search and seizure.5
For example, a defendant in court can question the basis for when and where to operate the DWI sobriety checkpoint. Indeed, a defendant can demand proof that connects the location of the road block and its effectiveness to law enforcement. The defendant can also demand proof that the procedure advanced the public interest to a greater degree than traditional methods. Likewise, a defendant in court may challenge random procedures to single out and stop drivers for arbitrary reasons.
Conclusion
Andy Rooney astutely observed,
I … have often thought that getting killed by some intoxicated idiot who crossed the median divider and hit me head-on would be the worst and most senseless way to die. I mourn for the parents of children who have died at the hands of drunk drivers. But none of this makes a police state acceptable. Freedom doesn't come risk-free. I'm willing to take some risks in exchange for my freedom.6
Mr. Rooney understood that the public interest in apprehending drunk drivers does not justify indiscriminate investigation and apprehension. That is what the Constitution and criminal defense lawyers protect.

Did the cops charge you at a DWI Sobriety Checkpoint?
New Jersey Criminal Attorney Michael A. Smolensky, Esquire, knows how to protect his clients. Mr. Smolensky can provide confidential consultations in all cases involving DWI Sobriety Checkpoints under the Federal and State Constitution.
Follow
Footnotes
1 N.J.S.A. 39:4-50.8.
2 N.J.S.A. 39:4-50b; N.J.S.A. 26:2B-35.
3 N.J.A.C. 13:86-2.2.
4 N.J.A.C. 13:86-2.4.
5 State v. Valencia, 93 N.J. 126, 133 (1983).
6 Andy Rooney, Roadblocks for Drunk Drivers Nibble Away at Our Freedoms, Chicago Tribune, reprinted in The Arizona Republic, April 4, 1983, at A7.