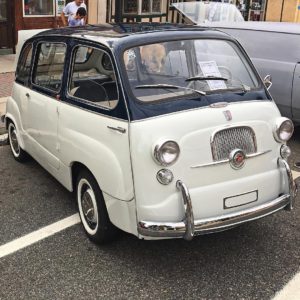 Hoboken cops recently charged five young adults with various drug offenses, per the news. Indeed, the charges include drug possession and drug possession with intent to distribute, per nj dot com. It all began when the cops saw an illegally parked car. Additionally, the cops claim the vehicle was registered to an individual with a suspended license. But the news report does not indicate what made the position of the car illegal. Furthermore, although the vehicle apparently moved, the news omits that detail. Instead, the news indicates the cops stopped the vehicle two blocks from the illegal parking spot. While approaching the vehicle, the cops allegedly saw a cloud of smoke exit from the window. And apparently it was the driver's window, but the news is ambiguous about that too. Moreover, the cops allegedly detected a strong odor of burnt marijuana inside the vehicle.
The cops claim the driver slurred his speech, and had bloodshot eyes. Additionally, they claim a marijuana cigarette was found lit in the vehicle. Moreover, a search allegedly revealed a digital scale, a bag with alleged marijuana, and an additional container with marijuana. Although the news omits these details, the cops probably filed charges for marijuana possession, marijuana possession with intent to distribute, paraphernalia possession, driving under the influence of marijuana, driving with suspended license, and a parking violation.
Possession as an Act, N.J.S.A. 2c:2-1(c)
New Jersey law defines possession as an act for circumstances where the possessor knowingly procured or received the thing possessed or was aware of his control thereof for a sufficient period to have been able to terminate his possession.1 Nevertheless, case law requires courts to construe possession as an act strictly. Accordingly, it signifies intentional control and dominion.2
Types of Possession
New Jersey law recognizes three types of possession: actual, constructive, and joint.3
Actual Possession
Actual possession requires physical and manual control.
Constructive Possession
Unlike actual possession, constructive possession does not require current immediate control and dominion over an item. Instead, it arises out of the person's conduct as to the item. Thus, it only requires the capacity, either directly or indirectly, to gain almost immediate physical control and the ability to perform this act during a particular period of time.4
Joint Possession
Joint possession is when two or more people share actual or constructive possession of an item. Factors to prove joint possession include, but are not limited to, whether the relationship between co-defendants is commercial or personal, statements and conduct of the parties, degree of control exercised by one over the other, whether the parties travelled and purchased the item together, how much of the item is involved, and whether one party had exclusive possession of the item for any significant length of time.5
Parting Shot
Possession can present a thorny issue for defendants. For example, constructive possession makes "wrong place, wrong time" defenses difficult, though not impossible, to prove. It also means the law takes a dim view of people who hide their head in the sand when in the presence of contraband.

Did the cops charge you with unlawful possession?
New Jersey Criminal Lawyer Michael A. Smolensky, Esquire, knows how to protect his clients. Mr. Smolensky can provide confidential consultations in all cases involving Possessory Offenses.
Follow
Footnotes
1 N.J.S.A. 2c:2-1(c).
2 State v. McCoy, 116 N.J. 293 (1989).
3 State v. Morrison, 188 N.J. 2 (2006).
4 State v. Schmidt, 110 N.J. 258 (1988).
5 State v. Morrison, supra, Note 3.