Can anyone serve on a jury in New Jersey?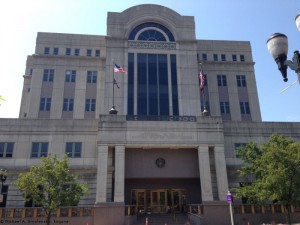 You might feel you saw all of mankind the last time you appeared for jury duty in New Jersey. For example, did you see individuals who reaffirmed your belief in Darwin's theory of evolution?
The court's parking facility might have seemed congested with vehicles. For instance, did you question the credentials of the architects who designed the garage?
Invariably, all the seats in the Juror Assembly Room probably appeared occupied. To illustrate, did you share those quarters with an individual who ignored society's expectations of personal hygiene?

Despite the variety and quantity of people summoned regularly for jury duty, the law does not allow everyone in New Jersey to serve on a jury. Furthermore, the New Jersey Judiciary endeavors to perpetuate the seriousness of jury duty to everyone who passes through the courthouse.
What are the requirements for jury duty in New Jersey?
Under New Jersey law, every person summoned for jury duty must be:
a United States citizen,
a resident of the county in which the person is summoned,
at least 18 years old,
able to read and understand English,
physically and mentally capable of properly serving as a juror, and
free of any prior conviction for any indictable offense under the laws of New Jersey, another state, or the United States.
This limits the power of the Superior Court of New Jersey. For example, it prevents the court from summoning a juror from another county. Previously, I blogged about vicinages. Although eleven vicinages in New Jersey share the borders of their county, four vicinages encompass more than one county. For example, Vicinage 15 includes the Counties of Cumberland, Gloucester, and Salem. Notwithstanding this administrative structure, the law prohibits Salem County Superior Court from summoning jurors in Cumberland and Gloucester County.
More generally, these six limitations mean one must qualify for jury duty. For example, actual U.S. citizenship is required. It is not enough to want to be an American. Additionally, jury duty is restricted to those at least 18 years of age. Anyone under 18 is ineligible, even those who happen to be "mature for their age." These limitations demonstrate jury duty in New Jersey is not for everyone. These limitations help narrow the pool of jurors to law abiding Americans who are unhindered in exercising the capabilities of an adults.
Criminal Defense Attorney Michael Smolensky, Esquire, knows how to protect his clients. Mr. Smolensky can provide consultations on all cases within this scope of practice involving jury and bench trials.
Call Now—(856) 812-0321