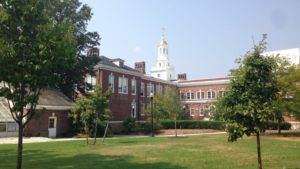 A 23-year old man allegedly posed as a Rowan University business student to steal from others. But the glass-is-half-full crowd might say this man has a promising future in business. After all, white collar criminals ordinarily get their start in business. Nevertheless, those aspirations will have to rest in the ethereal future for this man now that two females reported the unauthorized use of check and credit card information to police. The suspect allegedly took the financial information while burglarizing the females' apartment, per nj dot com. Additionally, he somehow he knew the women went away. Therefore, according to the police, he allegedly entered and spent some days there. Additionally, police claim the suspect used debit card information of another female for purchases. Consequently, the cops charged the man with forgery, burglary, credit card fraud, and theft.
Forgery, N.J.S.A. 2c:21-1
Forgery, Elements
A person commits forgery if, with purpose to defraud or injure anyone, or with knowledge that he is facilitating a fraud or injury to be perpetrated by anyone, the actor:
Alters or changes any writing of another without his authorization;
Makes, completes, executes, authenticates, issues or transfers any writing so that it purports to be the act of another who did not authorize that act or of a fictitious person, or to have been executed at a time or place or in a numbered sequence other than was in fact the case, or to be a copy of an original when no such original existed; or
Utters any writing which he knows to be forged in a manner specified in paragraph (1) or (2).
Forgery, Definitions
Writing includes printing or any other method of recording information, money, coins, tokens, stamps, seals, credit cards, badges, trademarks, access devices, and other symbols of value, right, privilege, or identification, including retail sales receipts, universal product code (UPC) labels and checks. Additionally, this section shall apply without limitation to forged, copied or imitated checks.
As used in this section, information includes personal identifying information as defined in subsection v. of N.J.S.2C:20-1.
Grading of Forgery
Forgery is a crime of the third degree if the writing is or purports to be:
part of an issue of money, securities, postage or revenue stamps, or other instruments, certificates or licenses issued by the government, New Jersey Prescription Blanks as referred to in R.S.45:14-14, or part of an issue of stock, bonds or other instruments representing interest in or claims against any property or enterprise, personal identifying information or an access device.
a check.
15 or more forged or altered retail sales receipts or universal product code labels.
Otherwise forgery is a crime of the fourth degree.
Possession of Forgery devices
A person is guilty of possession of forgery devices, a crime of the third degree, when with purpose to use, or to aid or permit another to use the same for purposes of forging written instruments, including access devices and personal identifying information, he makes or possesses any device, apparatus, equipment, computer, computer equipment, computer software or article specially designed or adapted to such use.
Woodbury Criminal Lawyer Michael Smolensky, Esquire, knows how to protect his clients. A charge of forgery calls for an aggressive defense. Call Now—(856) 812-0321.